A Tale of Two Scythes, 2.0
By Botan Anderson and Benjamin Bouchard
(This webpage is under construction)
Introduction:
Origins:
Reputation:
Scythe Blade design: Tensioned vs. untentioned
Snath design:


Sharpening:
American Scythe Blades (untensioned) - Best sharpened by grinding.

European Scythe Blades (tensioned) - Best sharpened by peening.


Mowing Technique:
American style scythe-

European style scythe-
---
Availability:

Restored and tuned, Vintage American scythes (they don't make them now like they used to) - http://www.baryonyxknife.com/

European scythe outfits - OneScytheRevolution.com
---
Although I myself am an "Austrian" scythe enthusiast, the above video of Gordon Lohnes and Perry Vienot mowing together is one of my all-time favorite scythe videos. I would love to mow alongside them. This video was also my first positive impression of the "American" style scythe. When I saw it several years ago, I thought to myself, "Huh. What d'ya know. They DO work." , and I added it to my webpage and facebook page. I've learned more and more from it every time I watch it.
---
A "Trial" of Two Scythes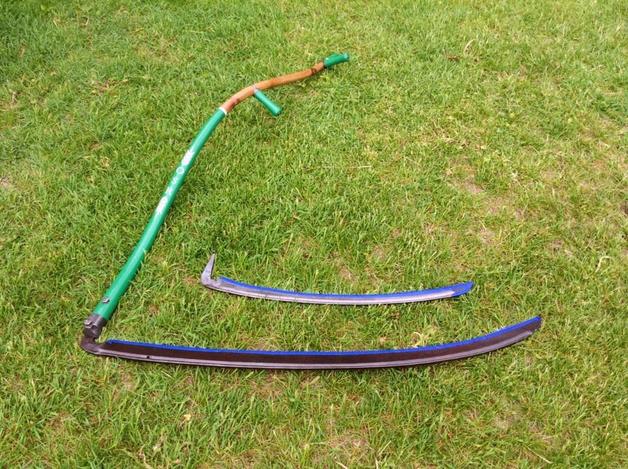 Tale of Two Scythes 1.0 had been referring all American scythe inquiries to Benjamin Bouchard of Baryonyx Knife
http://www.baryonyxknife.com/
, as a resource for American scythe enthusiasts, who need sharpening, repair, or even restoration services, for their American scythes. Benjamin has lately been generating quite a buzz in the scythe community, dazzling us with his knowledge of the tool, and making a lot of us devoted "Austrian" scythe fans, want to give it a try.
Ben and I both agree that the currently produced "American" scythes can't compete with the currently produced, top-of-the-line, Austrian and Italian-made tensioned scythe blades that I sell, so Benjamin Bouchard is going to supply me with the best functioning, vintage "American" scythe that he can come up with for me to experiment with. In return I am going to supply him with the best "Austrian" scythe equipment and instructions that I sell on this website. Peening equipment for his own Austrian scythe, and my Peening Manual, and my best whetstones, for starters. He likes both types of scythes, but prefers the American. My store-bought Seymour snath and VIC blade, and restored antique American scythe with be at my workshops this summer. Participants can try them out. Ben and I will test both scythes out, over the next mowing season, and report back in the Fall.
---